Author: David M. Hird
David is also the author of A Light in the Wilderness and Cape Wrath - the Penetrable Wilderness.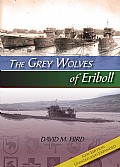 The Grey Wolves of Eriboll
by
David M. Hird
The surrender of the German U-boat fleet at the end of World War II was perhaps the principal event in the war's endgame which signified to the British people that peace really had arrived.
This revised, updated and expanded new edition gives career details of not only th... more...