Author: A. Bentley-Buckle

The British Navy Series
by
Mervyn Wingfield
,
A. Bentley-Buckle
,
David Balme
* SPECIAL OFFER - buy the trilogy for the special price of £40.00*

For full information about each book please visit their individual page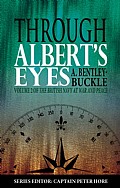 Through Albert's Eyes
by
A. Bentley-Buckle
The autobiography of Tony Bentley-Buckle, a child of the Empire who was left to grow up in the care of maiden aunts. Having joined the Royal Navy before the war, he found himself on the Northern Patrol during the blockade of Germany and as a teenager in command of captured ships. When he brought ... more...