Author: A. Heald
Dr. Andy Heald has contributed many specialist reports and papers to a wide range of publications and has also appeared as a specialist consultant on BBC Scotland and Time Team.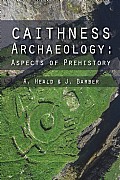 Caithness Archaeology
by
A. Heald
,
J. Barber
Caithness, the most northerly county in mainland Britain, is one of the richest cultural landscapes in Europe. The relative geographical isolation of the area, traditional landholding and the survival of large estates, combined with the use of flagstone as the main building material since earlies... more...