Author: Bo Beolens
Bo Beolens is the author of a number of Eponym Dictionaries including Mammals, Reptiles, Amphibians, Birds and Sharks. Ornithologists will be familiar with him as 'Grumpy Old Birder' from his numerous articles published in various magazines.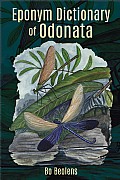 Eponym Dictionary of Odonata
by
Bo Beolens
The Eponym Dictionary of Odonata is a comprehensive listing of all people after whom damselflies and dragonflies have been named in scientific or common names. Each entry provides details of the species and a brief biography of the person. It is also cross-referenced so ... more...