Author: Bob Orrell
Following varied and adventurous earlier careers, the author became a journalist and travel writer. His interests include film-making and mountaineering and he is the author of Amulet - a charm restored and sailed to the Western Isles and Blowout.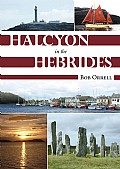 Halcyon in the Hebrides
by
Bob Orrell
To celebrate 60 years of sailing Scottish waters, the author single-handedly sailed Halcyon, a 32ft wooden yawl, from Fairlie on the Clyde, round the Mull of Kintyre by way of numerous inner islands to Barra in the Outer Hebrides and to the Atlantic side of the islands, not often visited by cruis... more...