Author: Captain VS Parani
For further information visit his website.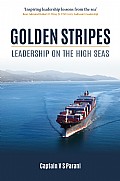 Golden Stripes
by
Captain VS Parani
Although merchant ships carry 90% of the world's trade, the mariners who run them have little guidance on leadership. This can result in disasters such as the Titanic, Costa Concordia, the Exxon Valdez, and the recent El Faro. With modern ships being worth several... more...