Author: Don MacCaskill
Don MacCaskill began his career as a forester and subsequently became one of Scotland's foremost naturalists, conservationists and wildlife photographers. He also worked on various environmental projects to study and protect wildlife such as eagles, merlins, buzzards, foxes, wildcats, badgers and otters.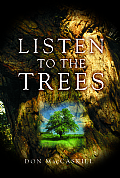 Listen to the Trees
by
Don MacCaskill
In his introduction, Don MacCaskill wrote modestly, 'I think I became a naturalist'. He was, in fact, one of Scotland's foremost naturalists and a remarkable wildlife photographer as well. In a flashback to his early years in Kilmartin, a village in Argyllshire, we learn of his awaken... more...