Author: Gordon Riddle
Gordon Riddle is currently a part-time ecologist with Natural Research Projects and is a founder member and Chairman of the South West Scotland Raptor Study Group. He was presented with the George Waterston Memorial Award in 2005 and the Donald and Jeff Watson Raptor Award in 2010. He is the author of several books, papers and articles.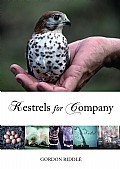 Kestrels for Company
by
Gordon Riddle
An appealing book that rightfully raises the profile of the kestrel. It provides an extensive picture of this delightful falcon, including its lifestyle and the factors that affect its breeding success and survival. This is based upon almost 40 years' monitoring of the kestrel in south-west... more...