Author: Guinevere Nalder
Dr. Guinevere Nalder is a chartered civil engineer and lecturer/tutor in mathematics and civil engineering. She was born and raised in the harbour city of Auckland and a childhood ambition was to live on the Bean Rock lighthouse in the centre of the harbour.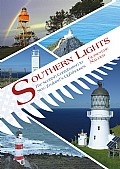 Southern Lights
by
Guinevere Nalder
Southern Lights recounts the story of how New Zealand's lighthouses were established through the transfer of technology from Scotland to New Zealand over a period of almost 90 years. This resulted in most of New Zealand's lighthouses being fully or partially built using Scottish ... more...