Author: Iain Lundy
Iain is a well-known journalist, writer, blogger and researcher.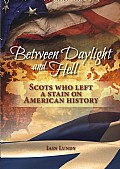 Between Daylight and Hell
by
Iain Lundy
This is the culmination of years of research into the lives of Scots who were guilty of dastardly deeds after leaving Scotland for America – in some cases they literally got away with murder. These emigrants were rogues, con artists, charlatans and reprobates of the worst order and their cr... more...