Author: Ian Leith
Ian established BaseLine Research in 2009 and is the author of The Man Who Went to Farr: Patrick Sellar and the Sutherland Experiment and Grannies and Other Folk: folk tales with a Caithness twist.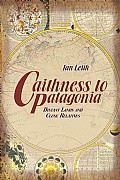 Caithness to Patagonia
by
Ian Leith
This is an extraordinary and little-known story of emigration from Scotland. Caithness and Patagonia are literally a world apart, yet in the late 19th and early 20th centuries a number of Caithness men and women took on the challenge of this wild, open and windswept land. The book provides the or... more...