Author: Professor J. Griffiths
Engineering Geomorphology
by
Peter Fookes
,
J. Griffiths
,
Mark Lee
This significant new book by foremost experts in the field will be the first that truly covers the topic of engineering geomorphology as a distinct discipline and, as such, will be of paramount importance to both practitioners and students.

Engineering geomorphology is concerned wi... more...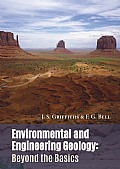 Environmental and Engineering Geology
by
J. Griffiths
,
F.G. Bell
This new book is a substantially updated and expanded edition based upon the successful and acclaimed Basic Environmental and Engineering Geology by the late Professor Fred Bell.
It incorporates the changes that have occurred since and also addresses some aspects of the discipl... more...