Author: Myrtle Ashmole
Philip & Myrtle Ashmole are biologists who have worked on islands in many parts of the world. They have published numerous scientific articles and are the authors of Natural History Excursions in Tenerife; St. Helena and Ascension Island: a natural history and The Carrifran Wildwood Story. In 2015, Philip and Myrtle received a Lifetime Achievement Award at the RSPB Nature of Scotland Awards.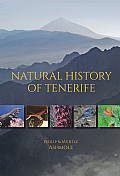 Natural History of Tenerife
by
Philip Ashmole
,
Myrtle Ashmole
Tenerife is a remarkable island, dominated by Mount Teide, an active volcano higher than any mountain in mainland Spain. The island has extraordinary volcanic landscapes, and thousands of species of plants and animals that are found only there.
The authors' love of Tenerife stems ... more...