Author: Stefan Panis
Stefan is an explorer, technical CCR diver, author, and photographer. He is an organiser of the international dive show, Tekdive-Europe.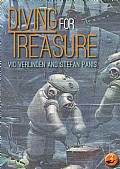 Diving for Treasure
by
Vic Verlinden
,
Stefan Panis
This book recounts the efforts over many years to dive wrecks that contained treasure in one form or another. The often prolonged and sometimes dangerous expeditions tell of dives to many ships that were wrecked while carrying tons of gold or other valuables. Many of the wrecks came to lie at gre... more...