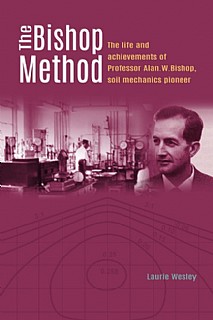 The Bishop Method
The life and achievements of Professor Alan Bishop, soil mechanics pioneer
Provides an insight into the man behind the method
Unveils the story behind the unique contribution that Professor Bishop made to the early development of soil mechanics
Demonstrates there is a 'Bishop Method' of working that was a key to his achievements in soil mechanics  
£35.00
978-184995-439-6
234 × 156mm
204 pages
c.60 illustrations inc. 32 diagrams, full colour throughout
July 2019
Hardback

Bishop is undoubtedly one of the most widely-known names in the soil mechanics, or geotechnical engineering, community today, alongside the 'founding father', Karl Terzaghi. This is mainly due to the method Bishop devised for estimating the stability of soil slopes; it became known as The Bishop Method and immortalised his name. However, Bishop's contributions to the development of soil mechanics were far wider and of greater significance than his slope stability 'method'. His colleague, Professor Skempton, makes this very clear in his contribution to the Bishop eulogy published in Géotechnique in 1988.
...It was a great privilege and the best of good luck to be associated for nearly 40 years with one of the finest intellects in our subject ... his work in this field brought about a highly beneficial revolution in soil mechanics... He was loved and respected by his numerous students... Through them and the strict but friendly criticism of his colleagues' work, and his own important contributions, he exerted a unique influence.
Bishop began his career in 1943 when the new soil mechanics world was still grappling with the fundamental issue of soil shear strength. Even the great Terzaghi had not sorted this out. Bishop applied himself immediately to this problem and by the mid 1950s had largely solved it. He published his findings in 1960 in a paper co-authored with Lauritz Bjerrum. This established the parameters to be determined by triaxial testing and the two methods of analysis in use today. This was undoubtedly Bishop's most influential paper.
In the eyes of many people Bishop did not receive the recognition he deserved during his lifetime, and indeed has not received since. However, The Bishop Method makes it clear just how influential and important Bishop's contributions were to soil mechanics. The book comprises three parts:
Part 1 – the story of Bishop's life, emphasising his particular problem-solving skills
Part 2 – his contribution to soil mechanics in some detail, of particular interest to anyone with a technical/professional perspective
Part 3 – articles by past students and others who knew him which together paint a fascinating picture of the man